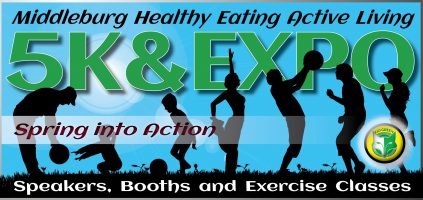 Middleburg is an official Healthy Eating Active Living Town!  In 2016, Middleburg's Town Council adopted the Healthy Eating Active Living Resolution as part of a nationwide campaign to improve the physical environment and give residents more opportunities to be physically active and eat healthful foods.
This year's 5K Run and Healthy Eating Active Living Expo is part of the Town of Middleburg's HEAL program.  As a community, we are very lucky to have a rich trove of local farmers, gardeners, nutritionists, fitness and wellness experts. We are also blessed to have such a beautiful town surrounded by the magnificent countryside of the Virginia Piedmont, which encourages us to eat more healthfully and live more actively. 
Please join us at the Expo to learn about and experience some of the many Healthy Eating Active Living options in our community.  This Expo is designed for all ages and fitness levels, whether you are more comfortable on a couch or running a marathon, need to increase your balance or want to experience a Boot Camp, the HEAL Expo has something for you. 
Wear something comfortable, bring your friends and come join in the fun on March 24 at the Middleburg Community Center!