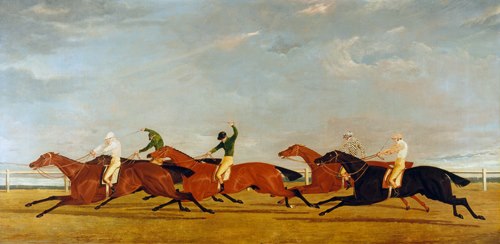 A Lifetime of Collecting: The Paul Mellon Collections at VMFA
Paul Mellon was one of the greatest art collectors and philanthropists of the 20th century He spent a lifetime creating a masterful collection of art including British, French, and American paintings, sculptures, works on paper, and books and manuscripts.
Join Jeffrey Allison, Paul Mellon Collection Educator and Manager of Statewide Programs and Exhibitions at the Virginia Museum of Fine Arts, as he discusses Paul Mellon's journey from his first purchase of a British painting in 1936, Pumpkin with Stable-lad, by George Stubbs to the remarkable collections of British Sporting Art and French Impressionist works in VMFA's permanent collection now on tour internationally.
$5 admission, free to NSLM members. For more information contact Anne Marie Paquette: apaquette@nationalsporting.org or 540-687-6542, ext. 25.
Image: John Frederick Herring, Sr. (British, 1802-1877), "The Final Lengths of the Race for the Doncaster Gold Cup," 1826, oil on canvas, 23 ¾ x 35 ¾ inches, Photo: Katherine Wetzel. © Virginia Museum of Fine Arts