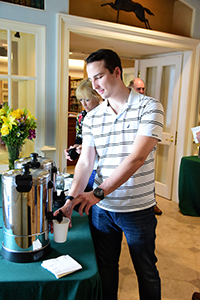 Join us for an informal coffee reception to celebrate NSLM's newest exhibition, A Sporting Vision: From the Paul Mellon Collection of British Sporting Art from the VMFA. Colleen Yarger, VMFA's Curatorial Assistant for the Mellon Collections, will greet guests and lead a tour of A Sporting Vision. Yarger served as a research specialist for the catalog which accompanies the exhibition.  A Sporting Vision celebrates Paul Mellon's gift of British sporting art to the VMFA. It also proposes a fresh look at sporting art within wider social and artistic contexts, including the scientific and industrial revolutions of the 18th and 19th centuries, the transformation of the British countryside, the evolutionary history of the horse and other animals, and society's changing habits and customs.
$5 admission, free to NSLM members
10 a.m.: Coffee reception in the library
10:30 a.m.: tour of the exhibition with Colleen Yarger
Please register to Anne Marie Barnes at abarnes@nationalsporting.org or 540-687-6542, ext. 25.