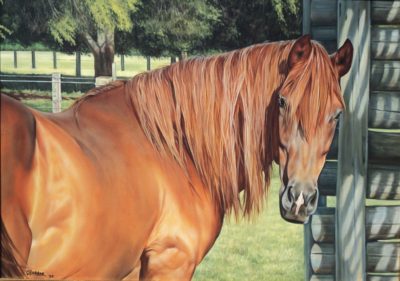 Join us for a reception to celebrate artist Carola Taddeo at 6 p.m. at Salamander's Equestrian Center Lobby.
Carola Taddeo was born in 1976 in San Antonio de Areco, Province of Buenos Aires, Argentina. Raised on her family's ranch and surrounded by cattle, horses and an intense love for Argentine tradition, she developed a deep connection from her earliest years with the lifestyle and images of Argentina's immense Pampas. As a result of decades of daily observation of horses and ranch life in general, she developed an incredible sensibility for translating her mental images and emotions from her fingertips to the canvas. Her artistic inclinations led her to the San Antonio de Areco School of Fine Arts. After finishing her studies and earning her degree in 1998, she undertook more specific training on the traditional subjects of Argentine culture and folk art. She subsequently worked with internationally acclaimed artists of this genre, such as Marcelo de Angelis, Marcos Borio and Jorge Frasca.
She has never stopped painting, continually refining her technique while simultaneously reaffirming her commitment to celebrating the subject matter that has made her one of Latin America's finest traditional artists. Her paintings have been sold in the Argentina, Australia, Spain, the United States and Saudi Arabia.
Complimentary wine and cheese will be provided. For more information or to make reservations to attend, please contact Sheryl Jordan at sjordan@salamanderresort.com.