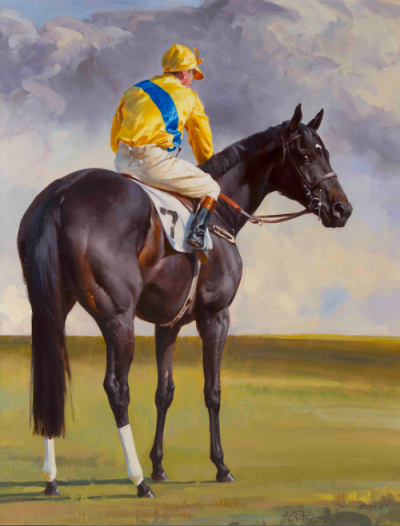 Andre Pater (Polish/American, born 1953) "Demonstrative," 2014, oil on canvas, 28 x 22 inches
Private Collection, © Andre Pater
Works from collections across the country are represented in the museum's retrospective exhibition, "Andre Pater: In a Sporting Light." The bold and vibrant compositions of contemporary sporting artist Andre Pater (Polish-American, b. 1953) are often compared to those of the great 20th-century British sporting artist Sir Alfred Munnings.
"Go beyond the mere image, and the painting becomes a 'matter of light,'" notes sporting art authority and National Sporting Library & Museum Board Member Lorian Peralta-Ramos of Pater's work. "Horses, colorful jockeys' silks, hounds, and cattle are all textures and as surfaces, each have their own particular reflective properties."
The retrospective exhibition and accompanying catalog present an in-depth analysis of Pater's mastery of the use of light and insightful understanding of animal anatomy and behavior.