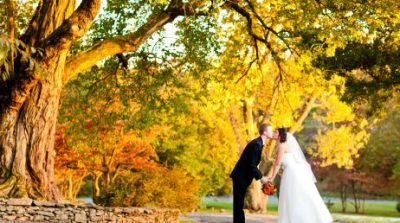 Whether you are starting to plan your dream wedding or just looking for those last little details, the Weddings in Loudoun Open House is just for you. The Open House is free, county-wide and self-guided, letting you choose which wedding venue(s) to visit. While at each stop, meet with service professionals such as caterers, photographers, florists and more. The Open House allows you to choose your stops and set the pace as you explore Loudoun's beautiful countryside. As an added bonus, venues and vendors will be offering prizes at each stop!
Participating venues and vendors include Atoka String Quartet, Briar Patch Bed & Breakfast Inn, Goodstone Inn & Restaurant, Greenhill Winery & Vineyards, Mt. Defiance Cidery & Distillery, Salamander Resort & Spa and The Red Fox Inn & Tavern.
The Visit Loudoun Visitor's Center in downtown Leesburg will be available throughout the Open House, providing information, maps and  "to-go" bags with snacks and water for you to enjoy while you drive to find your perfect wedding location.
Questions? Contact Dana Henry at henry@visitloudoun.org.