— If you're looking to have some fun over the Easter holiday weekend, Middleburg is full of events to help you celebrate with family and friends. Our top choices for the weekend are below. You can find more events on our calendar as well.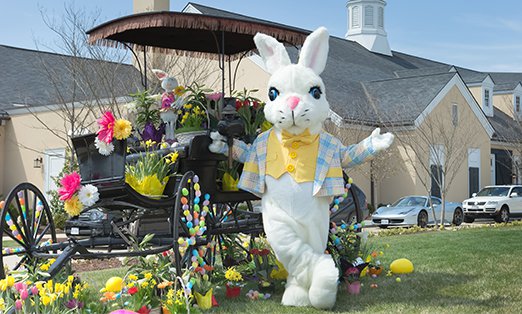 No surprise. Salamander Resort has a multitude of options for Easter fun over the holiday weekend.  On Saturday morning, you can grab your smart phone and join a team to find the egg-filled caches hidden throughout the property during their GPS Easter Egg Hunt. After the hunt, head to Harrimans Cooking Studio for their Easter CupCake Class and learn how to make your own fun Easter cupcake recipes, including favorite spring flavors like lemon and carrot. Then, bring your blankets and chairs and grab a spot on the Grand Lawn for a one-of-a-kind outdoor movie experience as you watch "The Secret Life of Pets."
On Sunday, you can choose from a full brunch buffet at Harrimans Virginia Piedmont Grill, including seasonal treats, free-flowing mimosas, unlimited soft drinks and juices, as well as a visit from the Easter bunny, or Easter brunch in the Middleburg ballroom featuring an extravagant dessert display, children's buffet, make-your-own keepsake designing station and a photo opportunity with the Easter bunny. Whatever you choose, you won't want to miss Salamander's Easter Egg Hunt on the Equestrian Center lawn.
Also, be sure to check Salamander's calendar for more fun weekend activities.
Enjoy a three-course brunch with a menu that includes carrot ginger bisque, fried green tomato benedict, five-layer chocolate cake and more. The cost is $38 per person or $15 each for children under 10. Reserve your table online or call The Red Fox at 540-687-6301.
Seatings are by reservation only and begin at noon.
The four-course menu includes rabbit terrine, burrata and iberico, seared pheasant, carrot cake and more.
Limited seatings available, so call 540-687-3333 to make your reservations today!
Ring in spring with an awesome zipline adventure at Empower Adventures. Their now-annual tradition is a zipline adventure like no other and it only comes once a year, so make sure you book your adventure as soon as possible!
Who needs to hop when you can just zip through the forest? Load up with three Easter eggs and try to hit the targets along the way. This adds a whole new dynamic to a zipline adventure, so you definitely won't want to miss it! Nothing beats zipping through the beautiful Virginia wilderness while experiencing the thrill of our egg drop game!
Each person who takes a tour on April 14-16 will have the opportunity to take aim with three eggs to try and hit targets placed throughout their course. Make your reservations today by clicking here or by calling 540-692-9471.
Three Fox puts its own spin on the White House tradition that was started by First Lady Dolly Madison. There will be two rolls at 2 p.m. and 4 p.m. on April 15 and a winner for each roll. Any winner under 21 years old will receive a wonderful Easter basket and 21 and over winners will get discounts on wine and merchandise purchases. There will be 24 "rollers" in each round. Pre-registration will be accepted. Their special Easter Bunny will be here for the egg roll. Email info@threefoxvineyards.com to register. Rolling Brick and Dough will have pizza for sale, too.